Rapid Prototyping on Google App Engine - Easily Extend your Python ML Models into Interactive Web Applications - Trip Planner with Google Maps and Yelp
Practical walkthroughs on machine learning, data exploration and finding insight.
On YouTube:
GitHub Repository:
Let's build a web application to map out trips and plot specific businesses along the route every fifty miles or so using Yelp and Google App Engine. Here is an example traveling from Portland, Oregon all the way to Boise, Idaho while being within 50 miles of a florist at all times - just in time for
Valentine's day
! You can click on each marker on the map to get the business name and rating.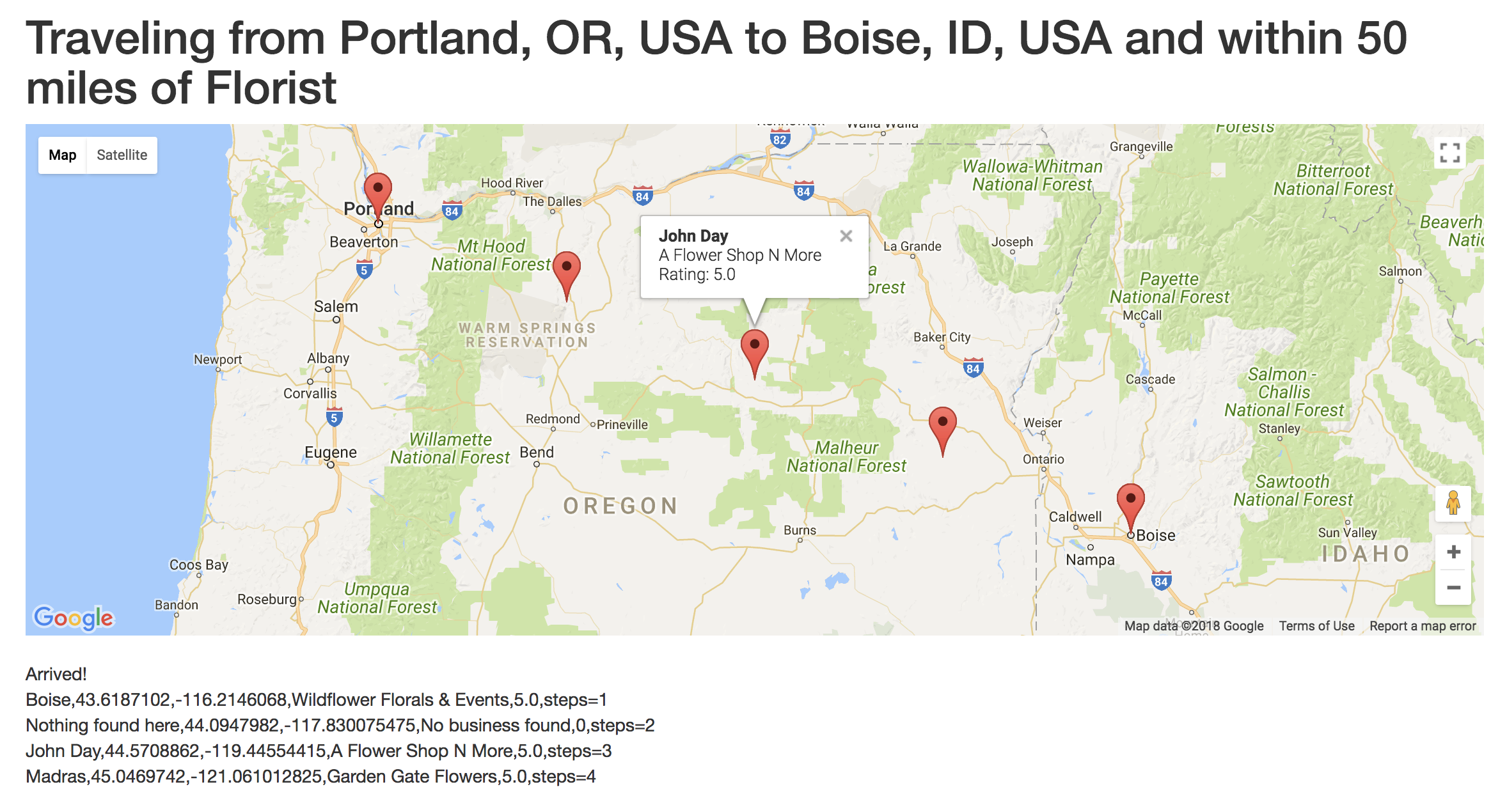 Prototyping your machine-learning models into web applications is a critical topic for most data scientists. There are plenty of resources to transition developers into data scientists but few on helping data scientists acquire full-ops development skills. For some, this may not be an issue as they either rely on outside help, or they have no desire in bringing products to market. For the rest of us, especially the data scientist with some entrepreneurial aspirations, there are some easy-to-acquire skills and tools to enable extending ideas into web applications on the cheap.
I have posted on this topic in the past using tools like:
In this walk-through, I'll show you how to extend a scripted python program into a fully interactive web application using
Google App Engine
. This platform is a no-hassle and cost effective option for easy and reliable web hosting.
Google App Engine
According to Wikipedia:
Google App Engine (often referred to as GAE or simply App Engine) is a web framework and cloud computing platform for developing and hosting web applications in Google-managed data centers. Applications are sandboxed and run across multiple servers.[1] App Engine offers automatic scaling for web applications—as the number of requests increases for an application, App Engine automatically allocates more resources for the web application to handle the additional demand.[2]
The
Google App Engine
is serverless so you don't have to think about any of the hardware behind your web application. You don't have to know what OS your application is running under, it will scale accordingly, Google will take care of security patches, and you only pay for what you consume. If you are looking for a hands-off web hosting option, this may be it. I will write a post on
Amazon's AWS Lambda
shortly to compare services. There are
two types of App Engines you can opt for
- one is very simple but less customizable, while the other isn't. We'll stick to the simple one - Standard Environment.