Google Video Intelligence, TensorFlow And Inception V3 - Recognizing Not-So-Famous-People
Practical walkthroughs on machine learning, data exploration and finding insight.
On YouTube:
| | |
| --- | --- |
| Famous: | Not so famous: |
This is the second part to the previous blog entry Google's Video Intelligence and Vision APIs - Automatically Recognize Actors and Download their Biographies in Real Time.
The above celebrity pipeline can chew through a celebrity video faster than you can say protagonist - and that's the whole point!
Can we divert some of that speed and instight towards something other than finding celebrities? What if we wanted to identify regular people? Or any other entity not currently offered with Google Video Intelligence?
Yes, we can!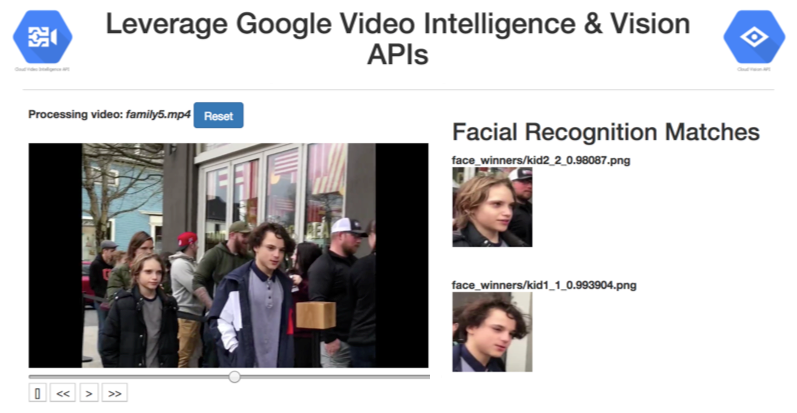 All we need to do is swap one step in the pipeline (albeit with some manual pre-processing work required). We remove the image web-search step and replace it with our own trained convolutional deep neural network. If you are trying to find family members on a video, then a web search using headshots probably won't help you (unless you're kids are super famous).
Enters…
Inception V3, Transfer Learning, And A Massive Modeling Shortcut
Inception V3 is the third inception version of convolutional deep neural networks (CNN) trained to recognize general object categories using the famous ImageNet dataset.
"The ImageNet project is a large visual database designed for use in visual object recognition software research. Over 14 million URLs of images have been hand-annotated by ImageNet to indicate what objects are pictured; in at least one million of the images, bounding boxes are also provided. ImageNet contains over 20 thousand ambiguous categories; a typical category, such as "balloon" or "strawberry", contains several hundred images."
Inception V3 can differentiate between 1,000 different objects (image-net.org):



Transfer learning is a big deal in supervised CNN modeling. Simply put, you can ask a model already trained on a set of object to recognize different ones. As you may know, large models require a lot of data and huge processing power with specialized hardware. Having the ability of piggy backing powerful and publicly-available models is a huge time saver!
"Transfer learning or inductive transfer is a research problem in machine learning that focuses on storing knowledge gained while solving one problem and applying it to a different but related problem. For example, knowledge gained while learning to recognize cars could apply when trying to recognize trucks."
If its the first time you hear about this, you may wonder how a model that has only been trained to recognize mundane things like cars, fruits, trees, etc. can also be used to differentiate between my children.
The best way to convince yourself is to try it out. It turns out that this approach does a good job with new data and new labels spliced right at the end of the network. But the main takeawy is that it would take efforts in the multiples with big hardware, a whole lot more data and serious hyperparameter-tuning knowledge to do this from scratch.