Downloading Data from Google Trends And Analyzing It With R
Practical walkthroughs on machine learning, data exploration and finding insight.
Resources

Packages Used in this Walkthrough


Google Trends has been around, in one form or another, for many years. Yet, it wasn't until I needed free Internet sentiment data that I took a closer look at this service and have been loving it ever since. With this tool you can easily target a time or region and find out what is trending up, down, or not at all - imagine all the possibilities!
Google Trends is a public web facility of Google Inc., based on Google Search, that shows how often a particular search-term is entered relative to the total search-volume across various regions of the world, and in various languages. (Source: Wikipedia.com)
In this walkthrough, I introduce the tool by accessing it directly through a web browser to extract data and analyze it in R.

Google Trends
Let's start by entering the term cycling and limiting our scope to the United States. There seems to be a decline in usage for that term from 2005 to 2014 as the oscillations are constant but the overall trend is dropping.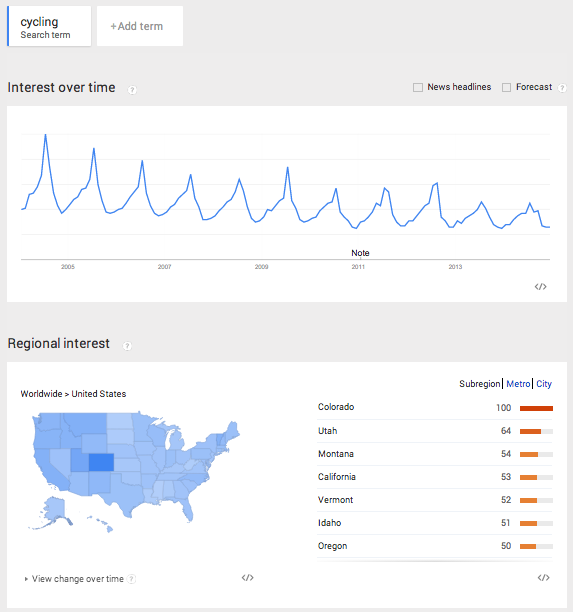 The highest peak is July 2014 and represents the 100% maximum search for the term. Everything else is scaled from that peak, and that is how Google Trends displays a single search term over time (i.e. nothing will be over 100 in the graph). The term also peaks with clockwork regularity every summer. This decline can mean that people's interest in cycling is declining, that the term cycling in the English language is replaced by another more popular term, or that cyclists aren't using Google like they used to (your theory is as good as mine).
Let's make things more interesting and add a second search term to our graph. Let's add the term snowboarding.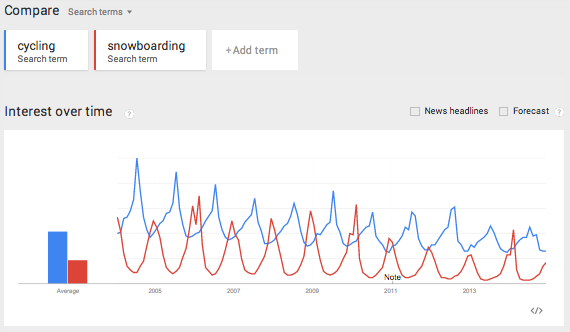 This creates a mirror image of cycling, where the peaks of one term are the troughs of the other. Snowboarding peaks every December, and, unlike cycling, the term hasn't dropped over the years.
So far, we've seen two interesting pieces of data using Google Trends: the term's popularity and its seasonal effect. There is plenty more to explore and compare as trends can be narrowed by time, region and city. Here we see both terms applied to Australia. Clearly, cycling is more popular than snowboarding…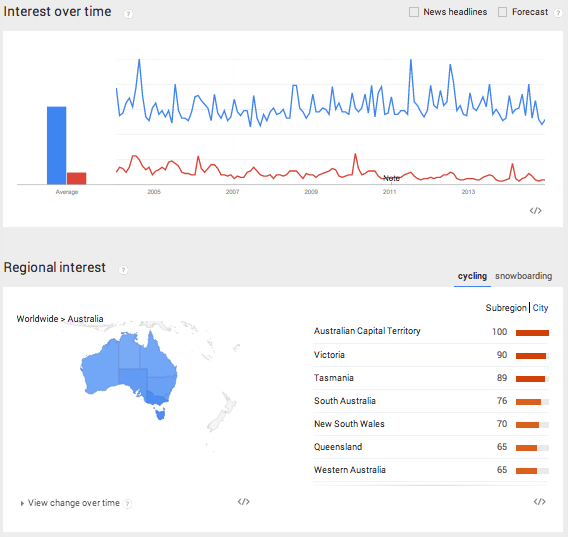 Let's Code!
OK, let's pull some data and analyze it in R. Query wine as the first term and beer as the second one and limit it to the US: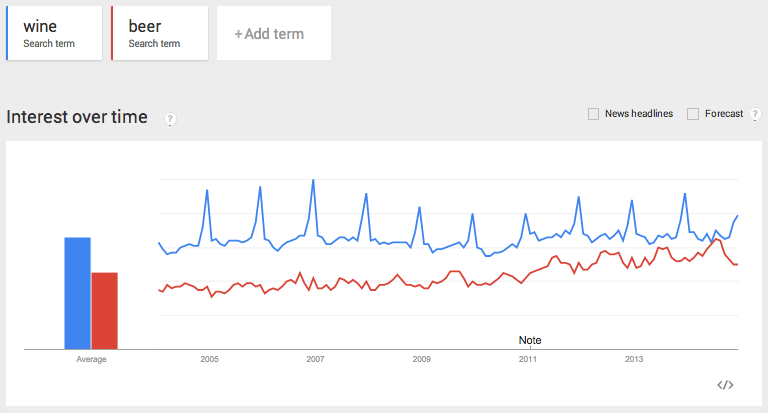 Download the csv file from the dropdown located in the upper right corner: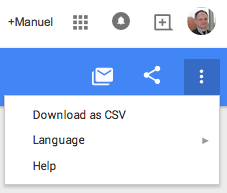 Now, let's access the file through R:
filename

 

<-

 

"beervswine.csv"



Manuel Amunategui - Follow me on Twitter: @amunategui